by Anna Adams, Anna J. Stewart, & Melinda Curtis
Clean Contemporary Romance
Paperback & Ebook, 202 pages
November 1st 2014 by Harlequin Heartwarming
Discover the magic of Christmas Town, Maine!
Three lonely strangers come to Christmas Town, Maine, and find love with three Banning siblings in the town that celebrates the holidays by decorating its square with lights and ribbons and a holiday pageant on Christmas Eve. Tradition has it that a kiss beneath the mistletoe that night means marriage for the couple in the new year.
The Christmas Gift by Anna Adams:
Jack Banning promised to support the mother of his unborn child… But she doesn't need money, she only needs him.
The Christmas Wish by Anna J. Stewart:
Callie Banning's student has declared war on Christmas, so it's up to her to help the little girl—and her widowed father—believe again.
The Christmas Date by Melinda Curtis:
Gina Vernay is about to meet her online mystery date…and she's in for the surprise of a lifetime!
I was excited to read this collection of Christmas novellas! I wasn't crazy about the first story but really enjoyed the other two. The stories are about three siblings who live in Christmas Town, Maine. Their parents are out of town for the holidays. The stories are told at the same time and we go on each of their journeys to find love.
In the first, Sophie comes to Christmas Town to find Jack, the father of her baby, to try to convince him to be part of their unborn daughter's life. Jack has his reasons for leaving, which we find out at the end. He seems like a nice guy but is harsh towards Sophie. He also seems to want her to stay yet keeps pushing her away. I found it hard to believe that they were together for two years and she wasn't aware of how he felt about becoming a father before she got pregnant. I'm sure most people will love their story but it just didn't appeal to me.
Callie is a second-grade schoolteacher and has a little trouble maker (Eliza) in her class. She and her single father, Dean, are in town temporarily while he finishes an assignment. Callie comes to understand Eliza better by figuring out what's really bothering her. It doesn't hurt that in the meantime, she gets to know Dean better, too! The only problem: They'll be leaving soon and Callie's life is in Christmas Town. I liked how Callie and Dean's friendship flowed and they had some great moments together. Callie and Eliza also had some touching scenes. I also liked what Callie learned about trying to take her mom's place as the town holiday helper.
Nick married young and put his wife through school, but when it came time for her to return the favor, she decided she wanted a divorce instead. So now Nick is the handyman of the town and a single father. He has been wanting to date Gina, the owner of The Tea Pot. He rushes to help her whenever she calls but she seems to look past him as a love interest. He finds out she signed up for an online dating service, so he signs up for the same one. She's fallen for him as user Football20, but will he get up the nerve to confess to her who he really is? I loved Nick and, from the beginning of his story, I was cheering for him. I liked how he was helpful to others, even though his own dreams had been shattered. Gina has her own issues that she's dealing with. Their story takes place in the shortest amount of time but it is definitely sigh worthy!
I loved seeing the siblings in each other's stories and enjoyed getting to know them. These stories are quick, easy reads which are perfect to get you in the mood for Christmas. I love that they're all clean so I can recommend it to everyone! Christmas Town was a fun place to visit!
My Rating=4 Stars
About the Authors
Anna Adams wrote her first romance in wet sand. The Atlantic Ocean washed it away, but Anna kept going. Her stories are of love, like the proverbial stone in a lake, making ripples that spread and contract and involve. From Iceland to Hawaii, and points in between, Anna and her own hero share with children and family and friends who've become family. All this living and loving gives Anna plenty of fodder for stories of love set in real life. Come along and live them with her!
Anna J. Stewart can't remember a time she didn't have a book in her hand or a story in her head and credits her mother never saying no to a book for turning her into a writer. Anna lives in Northern California with an overly attentive cat named Snickers and is happiest when setting her heroes and heroines on their road to happily ever after amidst family, fun and laughter.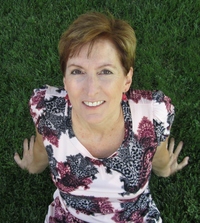 Melinda Curtis grew up on an isolated sheep ranch, where mountain lions had been seen and yet she roamed unaccompanied. Being a rather optimistic, clueless of danger, sort she took to playing "what if" games that led her to become an author. She spends days trying to figure out new ways to say "He made her heart pound." That might sound boring, but the challenge keeps her mentally ahead of her 3 kids and college sweetheart husband.
- Gift Card Prize Pack: $20 Amazon gift card and ebook of Christmas, Actually (open
internationally)
- US Prize Pack: Paperback of Christmas, Actually and three Christmas ornaments
(US only)
- 3 ebooks of Christmas, Actually (open internationally)
a Rafflecopter giveaway