A themed book tour through
Prism Book Tours
.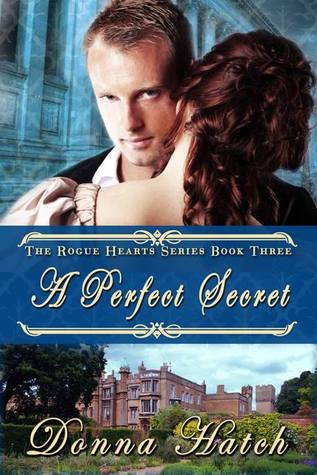 A Perfect Secret
(Rogue Hearts #3)
by Donna Hatch
Adult Historical Romance
Paperback, 348 Pages
December 14 2013
Desperate to protect her father from trial and death, Genevieve breaks off her engagement with Christian Amesbury and marries a blackmailer. After a year of marriage, she flees her husband's violent domination only to have fate bring her back to Christian. Just when she thinks she's started a new life of safety and solitude, her husband tracks her down, stalks her, and threatens everyone she loves.
Still brokenhearted over Genevieve's betrayal a year ago, Christian can't believe she's come back into his life--and worse, that she's done it on the anniversary of his brother's death, a death that haunts him. Though tempted to throw her back into the river where he found her, he can't leave her at the mercy of the terrifying man she married.
When her husband torments Genevieve and puts his family in danger, Christian will do anything to protect those he loves...anything except give Genevieve another chance to break his heart.
This book starts off with the day that Christian's brother, Jason, died. Even though it was an accident, Christian feels responsible for his death. His brother, Grant, doesn't have kind words for him and it gives some insight into their strained relationship.
Seventeen years later, Christian is in love with Genevieve Marshall and they are ready to get married. The afternoon of what is supposed to be one of the happiest days of Genevieve's life, she finds out that her father is being blackmailed by the odious Lord Wickburgh and the price of his silence is her. To save her family, she agrees to marry him and breaks Christian's heart. A year later, she can't handle the abuse anymore and does something drastic to get away. Christian finds her and protects her, but it will take favors and resources to protect her from her husband who will do anything to get her back.
This is a pretty serious book dealing with some heavier issues. I was rooting for Christian and Genevieve and so saddened by all they had gone through at the very beginning. Christian was confused by Genevieve's actions since she didn't explain it to him, but wanted him to believe she was actually in love with Lord Wickburgh. He felt betrayed and angry so when he saw her again, he really wasn't sure if he wanted to help her. They had a lot of issues to work through. I didn't like that she was married during that (even though she was abused and determined not to go back to her husband). I would have liked it a lot more if they had been able to free her early on and then reunite and work on their relationship. However, since Genevieve's marriage had never been happy and she had been abused and treated like an object, I was glad that she was given a chance for a happy ending with someone who treated her well.
I liked Christian's relationships with his siblings. I liked his sister, Rachel, and thought she was a good buffer to have between Christian and Genevieve. His brother, Grant, was pretty rough and I wasn't sure if he would actually protect Christian. I found myself kind of liking him in the end. Cole and Jared, the subjects of the first two books, also made an appearance. I'm glad to hear that both Rachel and Grant will have their stories told in the future.
This is a clean read, but be prepared for serious issues rather than fluff. I loved it, though, and had a hard time putting it down. This is the third book in this series but I thought it worked well as a stand alone. You can tell there's history between the characters but it doesn't interfere with the storyline of this book. This is a series I plan to read from the beginning so I can get more of a feel for all the Amesbury siblings, their relationships with each other and how they each find their happy ending!
My Rating=4 Stars
*I received a copy from the tour host for review. My opinion is 100% my own.*
My passion for writing began at the tender age of 8 and I've been hooked ever since. Of course, I also wanted to be an actress and a ballerina, but one out of three isn't bad, right?
In between caring for six children, (7 counting my husband), my day job, my free lance editing and copy writing, and my many volunteer positions, I manage to carve out time to indulge in my writing obsession. After all, it IS an obsession. My family is more patient and supportive than I deserve.
- Grand Prize:
$20 Amazon gift card and an ebook (INT) or print copy (US Only) of
A Perfect Secret
OR
The Stranger She Married
(winner's choice)
- 5 ebooks
of
A Perfect Secret
- Open Internationally
- Ends July 20th